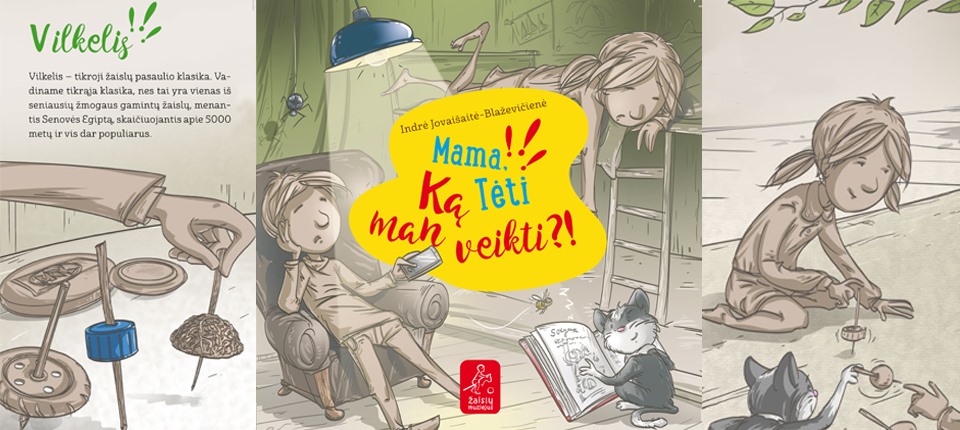 Educational toy and game book 'Mum, Dad, There's nothing to do', based on a lock-down programme on the social network FB account. Toy museum in Vilnius.
2022-03-01
Pandemic and digital life from the perspective of Toy Museum in Vilnius
The topic of digitisation is not a new trend in the field of museology. Digitisation processes in museums have been discussed since the end of the 20th century, however, the material and digital fields still face a strong struggle for attention and integration. It was the Covid-19 pandemic that tipped the scales and forced museum professionals to urgently reorganise into digital activities. The Covid-19 pandemic demonstrated the inadequacy of digital literacy as well. Even though museums have had to adjust to a different rhythm of activity within a few weeks or even a few days, the area of the digital and tangible life of the museum remains an important and problematic topic. We may suspect that the lock-down was meant to help to test, learn and apply digital skills through practice, to build up individual experience for each museum, but the DigMus mapping report shows that knowledge needs practice as well as theory. But this also happens in reverse: theory alone does not allow us to grasp the real application of digital possibilities in a given museum and to develop the most effective practices for solutions.
The DigMus: Empowering Museum Professionals with Digital Skills and Competencies mapping report of the spring 2020 survey in Sweden, Estonia and Lithuania shows digital practices and existing needs in professional training across the Nordic and Baltic region in the aftermath of the Covid-19 lock-down. Participants' responses confirm that the practical knowledge acquired during lock-down should be complemented by theoretical insights. This is the training that the vast majority of the participants would choose. Respondents articulate a need for a better understanding of online visitor behaviour and usage of digitized content for marketing purposes to make better decisions linked to museums public services. When speaking about suggestions for future training, 'Recent trends in digital museum communication and marketing' and 'visitor analysis' were the most requested choices. 
We all understand that knowledge is not a stable thing. Naturally, continuous training, identifying new trends and assessing of any changes make it possible to understand the dynamics of development in each field. However, it is not a one-size-fits-all solution that will solve any museum's problems or meet its communication objectives. In this case, a parallel can be drawn with technology in museums in the general sense. Technology and the amount of technologies in a museum does not in itself make a museum attractive and relevant to its audience. It is a merely means of facilitating and creating an attractive presentation of the content of a particular museum. Therefore, when thinking about digital activities, skills or knowledge, they should not be seen as a natural solution to a problem, but as a tool that, if managed and used in the right way, can be used to achieve the museum's organisational and communicative goals.
These are the insights of one small museum, which, like museums all over the world, had to figure out in one day how to live and work in the lock-down. Toy Museum in Vilnius is a very physical museum, where the topic is revealed through real play, exploring, testing and using toys and games. Otherwise, all museum exhibits become interior details, pieces of art, paintings or sculptures. The essence of the toy is not the aesthetic, but the cognitive significance of the action that takes place during play. That's why we have always perceived digital activities as an additional supporting function, but not as a substitute for the real activities that take place in the museum. However, we have also been forced to look for prompt solutions. From the very first day of lock-down for 45 consecutive days we have been presenting toys and games with instructions and rules of the game that families can make with items or materials from home on our FB account. It was a successful session and a remote workshop that encouraged our audience to share photos and impressions of the toys they created. Eventually, this project turned into a real exhibition at the Toy Museum and a new educational book 'Mom, dad, there is nothing to do!'. Nevertheless, we were always thinking about our visitors, their favourite activities and the specifics of the second lockdown. During the first wave, everyone in the museum tried to present as many innovations and interesting things as possible, organising remote tours and lectures. The second lockdown was characterised by a kind of protest against computers, screens, technology and digital content. In response, we refocused our activities on an outdoor exhibition on the windows of the Toy Museum. We developed a stand-based educational exhibition 'Playful Man: Then to Now', which was accessible to everyone passing by, open 24 hours a day and without any tickets. Our aim was to carry out activities that would maintain the characteristics of our real museum and not create expectations that the museum would not be able to fulfil later. These discussions took place with colleagues in international workshops, which emphasised not only the need for digital skills training, but also a realistic assessment of these activities in the context of the specificities of each museum. Digitisation must be seen as a complement, a facilitator but not a substitute for the vision and mission of the museum.
by
Indrė Jovaišaitė-Blaževičienė, director of Toy Museum